Niki Jamieson Fine Art: Faeries & Frogs
"Faeries & Frogs"
Acrylic on Canvas By Niki Jamieson
I am so in love with this painting! It has sat idle in my head for 25 years as I would get overwhelmed with piecing together the composition and colors.
A couple of weeks ago I felt incredibly inspired to go for it! I did my research online and made a composite sketch using the elements I imagined would work best in this image.
The younger me only imagined the faerie, lily pads and water. The me-who-is-25-yrs-older imagined some cool new pink frogs indigenous to faerie land called Rosea Venenum Telum Rana. They are a really spectacular breed, if you don't know. They use their pink color as camouflage to keep themselves safe from the wizard Egrets, a very hungry bunch, who seem to be immune to their poisonous pink skin.
I thought I was finished with the painting at one point but HATED how the background lily pads looked. So I painted them out and texted a friend: I'm either going to hate myself for doing this or paint a masterpiece.
I had some lunch, did some more research on ponds, set up a composite and started painting. I can't always say my art gambles pay off, but this time I think it did.
Enjoy the photos of the painting in progress.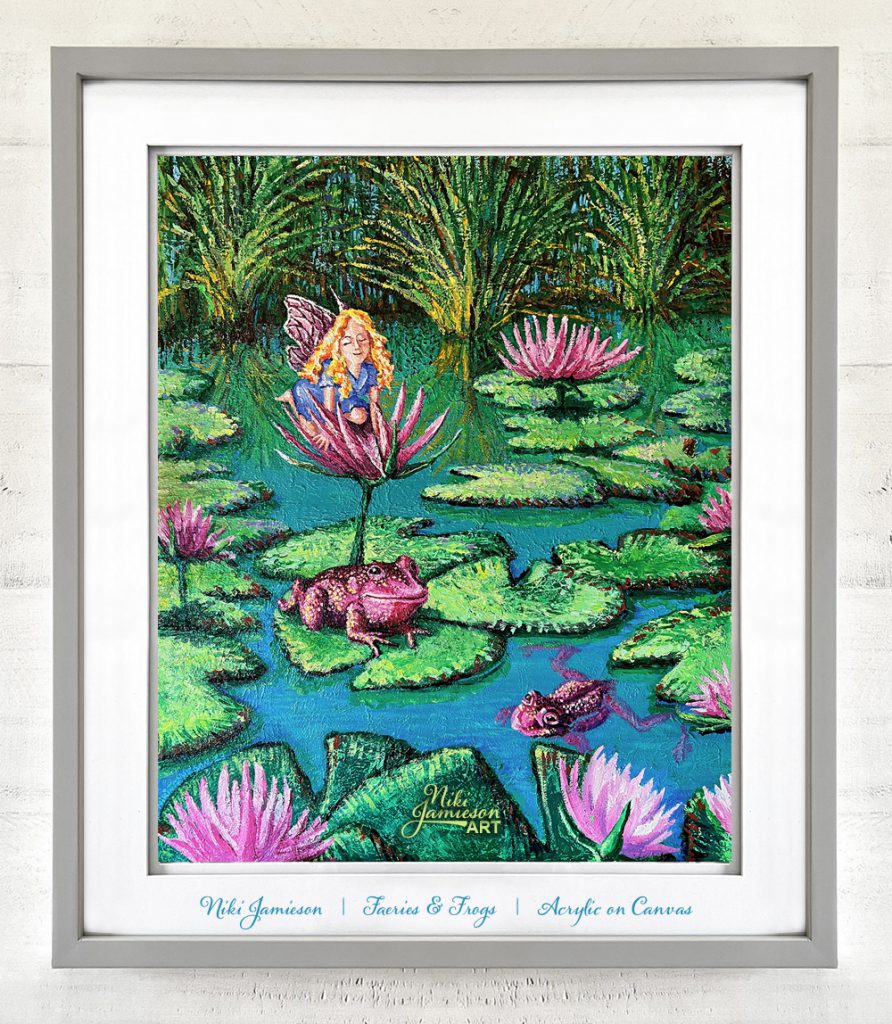 Click below to view the gallery of student artwork. You'll find samples from the kid's art classes along with samples from the adult acrylic painting class.
Click below to see what each class is doing from week to week. View the adult acrylic paintings step-by-step along with the the materpieces from the weekly kid's classes.