Everything You Need to Know for Acrylic Art Class
Preparation for the class

How to clean up after class

Art Supply list
Before Class: Preparing your art space
Before class, you'll want to be completely set up and ready to start. That means:
All of your paints and brushes are within arm's reach;
Your palette, water and rag are right next to you (on the right if you're right-handed, left side for left-handed people);
Your canvas and inspiration picture are right in front of you;
Your favorite beverage is within arm's reach;
The device you are using to connect is set up and working;
And you're comfortable.
After Class: Cleaning up properly
After class, you'll need to clean up your supplies in a special way that will keep your brushes safe and the area around you from getting paint spilled on it.
Fold up your paper plate palette without spilling it and place it in the trash.
Wipe any excess paint out of your brush onto your rag and bring them to the sink.
Get liquid soap on your fingers and work it though the bristles while you hold it under the running water.
Once the water runs clear and you feel the brush is free of paint, place it (bristle up) in a cup for drying.
Fold up your rag so that the side with the paint can't touch anything and put it away.
Put your paints in a box and store them at room temperature.
Art Supplies
Here are the recommended art supplies students should have on hand for the adult acrylic painting class. If you are brand new to painting and experimenting with this class, stick with buying the less expensive supplies until you're sure you love it. If you already know you love acrylic painting and are looking for quality, you may want to go with the more expensive options. Either option is fine for this class.
In addition to having these supplies, you will need a rag the size of a hand towel for wiping excess paint on, a cup for water and white paper plates. The paper plates are going to be your disposable palettes, so grab ones that are durable like these: Dixie Ultra Paper Plates.
Acrylic is very unforgiving with clothing and ruins it. It is recommended that you either wear a smock or clothes that can be ruined.
Acrylic Paint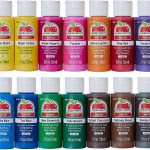 Apple Barrel PROMOABI Acrylic Paint Set
Less Expensive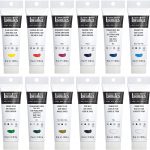 Liquitex Professional Heavy Body Acrylic Paint Classic Set
More Expensive
Acrylic Paint Brushes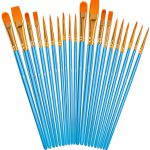 Soucolor Acrylic Paint Brushes Set
Less Expensive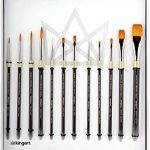 KINGART TAKLON Acrylic Paint Brush Set
More Expensive
Canvas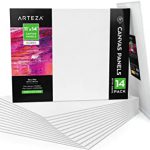 Arteza Canvas Boards 11 x 14 Inches
Less Expensive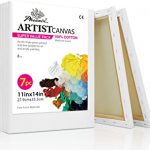 PHOENIX Cotton Stretched Canvas 11x14
More Expensive
Easel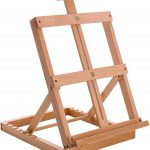 U.S. Art Supply Venice Tabletop Easel
Less Expensive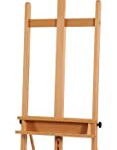 MEEDEN Large Studio H-Frame Easel
More Expensive